"Back to School" in 2020 looks like no other year in recent history. Teachers across the nation are struggling with how to balance creating a meaningful learning environment with the emotional well-being and overall health of their students. Everyone is longing for the comfort of the traditional school day, one without masks, social distancing, and daily temperature checks, part of which used to include the excitement of a class trip. Depending upon where you live, current options for enjoyable class trips may be extremely limited.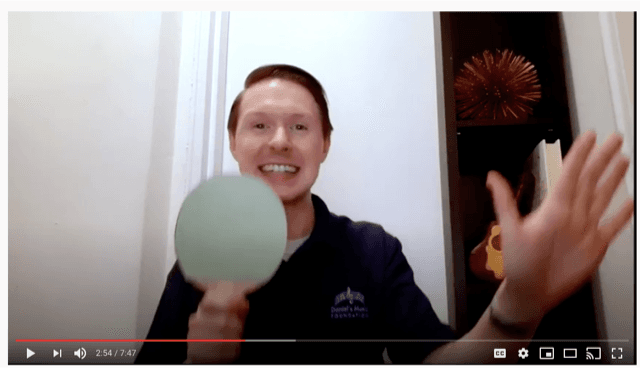 Enter Daniel's Music Foundation (DMF), a non-profit organization located in New York City that empowers individuals with disabilities through music.
DMF is responding to the nation's COVID crisis challenge to schools by offering a limited number of free online music class trips to schools and organizations that serve the disability community. Their offerings – Singing, Music & Movement, Adaptive Music & Movement, and Dance Parties, are recreational and geared toward spreading joy and promoting emotional health and well-being through music. The 25-minute or 50-minute online recreational music class trips are a meaningful and safe, hassle-free alternative to traditional trips.  There are no travel plans to make, lunches to pack, or permission slips going back and forth. The trips are designed for up to 12 students at each session and are led by an experienced instructor.  DMF instructors are music therapists, special education teachers (with a proficiency in music), and musicians who all have a great deal of experience. "They each have a unique approach, but their dedication, patience, knowledge, and enthusiasm is consistently applied to every class" states Ken Trush, Co-Founder of Daniel's Music Foundation. "The emphasis is always on getting the most out of each individual's talents in a fun, social, and creative environment"
On May 14, 2020, they launched the DMF Online Community, a place where individuals of all abilities can connect, engage, and celebrate the joy of music together. This new platform includes free interactive Music & Movement Activities and online live events, as well as online music lessons for individuals and small groups at an affordable price.  
"In these uncertain times, it has been important for us to find new ways to effectively engage our community, as individuals with disabilities disproportionately experience isolation," says Ken, "which is only exacerbated by the current global crisis." 
But this goes beyond individuals. DMF was founded on the premise that music is a right not a privilege and is committed to providing access to meaningful music programs for all. 
"We see how many of the organizations and schools that serve our community are struggling to fill the void for recreational activities during these unprecedented times," states Nadine McNeil, Program Director for the Foundation, "So, we're excited to help out where we can by virtually providing a safe, cost-effective, hassle-free alternative for a purposeful and fun class trip to those who may have few options."
If you are interested in learning more, you can contact Nadine McNeil Nadine@danielsmusic.org.